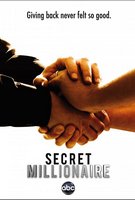 TV Info
---
Category
Reality TV

Genre
Reality


November 25, 2008 12:11:36
Two TV promos, introducing the new reality show on FOX titled "
Secret Millionaire
" have been given out. The videos show how the actual-millionaires go on disguise as a person in need to experience how it feels to survive in impoverished neighborhood and consequently find the right person to share their fat pile of bucks.
To be premiered on December 3 at 8 P.M., "Secret Millionaire" will follow several wealthy Americans in their mission to help improve the life of people in need but through a thorough observation on who should deserve it. As an undercover, they will work minimum wage jobs and live in a poverty-stricken neighborhoods including in the community that was devastated by Hurricane Katrina. On the last day of their mission, they will reveal their true identities to the people they have been involved in and decide who should take away the prize.
...