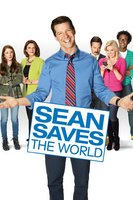 TV Info
---
Category
TV Series
Genre
Comedy
Starring :
Sean Hayes
, Samantha Isler, Linda Lavin, Thomas Lennon, Echo Kellum, Megan Hilty

January 29, 2014 11:01:51
"
Sean Saves the World
" can't save itself from cancellation. NBC has shut down production on the rookie sitcom starring "Will & Grace" alum
Sean Hayes
which has struggled in the ratings.
"Thanks to @SeanSavesWorld actors & crew & @NBC for a wonderful opportunity," Hayes tweeted after the news broke, jokingly adding, "Looking forward to Obama's minimum wage increase to $10/hr." He also said that he'd "never laughed harder" than he did on the show.
...