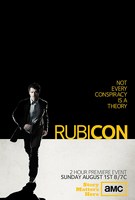 November 12, 2010 09:11:14
For the first time AMC does not renew a freshman series beyond the first season. "
Rubicon
", a conspiracy thriller starring
James Badge Dale
, falls victim to this move, which was announced on Thursday, November 11.
AMC had such confidence in series like "
Mad Men
" and "
Breaking Bad
" when they first aired that they were instantly renewed. In fact, the network ordered a second season of "
The Walking Dead
" after only three episodes into the first season. Apparently "Rubicon" had to wait almost a month after it completed its debut season in October.
...
June 08, 2010 11:06:38
In the world which appears to be going normal, a big conspiracy is brewing underneath everyone's nose. The first look at AMC's new drama thriller, "
Rubicon
" reveals that clues and messages of conspiracy are embedded in crossword puzzles and newspaper articles.
According to the network, "Rubicon" is a conspiracy thriller set in a NYC-based government intelligence agency, API, where nothing is what it seems. The series focuses on a beleaguered analyst, Will Travers, who, faced with a shocking tragedy, begins to uncover clues that point to a complex and sinister conspiracy.
...