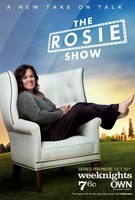 March 21, 2012 09:03:03
Rosie O'Donnell
has defended OWN's decision to pull the plug on her show. Appearing in a Tuesday, March 20 episode of "
The Rosie Show
", the 50-year-old host tried to calm her fans who has been lamenting the show's cancellation by saying, "It was fair."
Having nothing but good words for the network's CEO,
Oprah Winfrey
, O'Donnell shared, "Listen, Oprah gave me an amazing shot at doing this. She really did. She put me back on TV. She believed in me. I didn't even know if I could do it again."
...
March 17, 2012 08:03:20
"
The Rosie Show
" has got the boot after only one season. OWN announced on Friday, March 16 that it canceled the talk show hosted by
Rosie O'Donnell
. The daily program's final episode will be taped on Tuesday, March 20 and aired on Friday, March 30 in its 7 P.M. time slot.
"I thank Rosie from the bottom of my heart for joining me on this journey," the network's owner
Oprah Winfrey
said in a statement. "She has been an incredible partner, working to deliver the best possible show every single day."
...