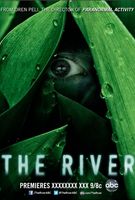 TV Info
---
Category
TV Series
Genre
Thriller, Mystery
Starring :
Eloise Mumford
,
Bruce Greenwood
, Daniel Zacapa, Joe Anderson, Leslie Hope, Paul Blackthorne, Paulina Gaitan, Shaun Parkes,
Scott Michael Foster
,
Thomas Kretschmann

November 21, 2011 04:11:29
"
The River
" is not premiered until February 2012, but ABC has unleashed a promo for the first episode. Though short in term of time, it manages to bring forward the mysterious atmosphere as it sees some supernatural things such as a man walking on the water and a girl with a creepy face.
Coming from "
Paranormal Activity
" creator Oren Peli, the new thriller series follows a group of family, friends and crew who set out on a mysterious and deadly journey to find wildlife expert and TV personality Emmet Cole (
Bruce Greenwood
) who went missing in the uncharted Amazon. To fund the rescue, they agree to let Dr. Cole's cagey ex-producer Clark (Paul Blackthorne) film the mission documentary-style.
...
September 03, 2010 11:09:34
The tremendous success of indie flick "
Paranormal Activity
" is stretched much wider with a TV deal. The small screen viewers may soon have trouble sleeping for a TV show is being worked on based on the movie about unknown being which disturbs a young couple's sleep at nights.
Creator of the movie, Oren Peli, is teaming up with Dreamworks TV and ABC Studios to develop the series which is going to be called "
The River
". Executive producers Steven Schneider and Jason Blum who worked on the first installment and "
Paranormal Activity 2
" screenwriter Michael R. Perry are also involved in creating the horror series.
...