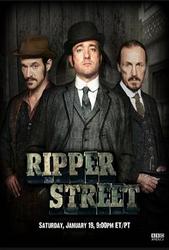 October 18, 2013 03:10:35
BBC has debuted a trailer for "
Ripper Street
" season 2 ahead of the show's October 28 return in the U.K. It teases fans with some violent and sex scenes as well as a glimpse at Damien Molony as Detective Flight, all of which are set to
Kanye West
's hit 'Black Skinhead'.
Matthew Macfadyen
,
Jerome Flynn
and Adam Rothenberg return as crime-solving trio Detective Edmund Reid, Detective Bennet Drake and Captain Homer Jackson respectively in the second installment of the drama series. Set in 1890, the second season begins as Jackson discovers a new opiate on the streets of Whitechapel from the nearby newly emergent Chinatown in K Division, Limehouse, led by the amoral Detective Inspector Jedediah Shine.
...
November 23, 2012 02:11:21
BBC America is promoting its upcoming original series "
Ripper Street
" and shares more footage from the show in an extended trailer. Set in and around Whitechapel in 1889, it centers on the notorious H Division, which is charged with keeping order in the all-consuming chaotic East London streets.
In the aftermath of the infamous Jack the Ripper murders, the police officers are forced to face public's curiosity when dead people are found on the street with part of their bodies ripped. "These streets demand your vigilance," says a citizen to a police inspector.
...