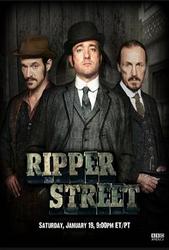 November 23, 2012 02:11:21
BBC America is promoting its upcoming original series "
Ripper Street
" and shares more footage from the show in an extended trailer. Set in and around Whitechapel in 1889, it centers on the notorious H Division, which is charged with keeping order in the all-consuming chaotic East London streets.
In the aftermath of the infamous Jack the Ripper murders, the police officers are forced to face public's curiosity when dead people are found on the street with part of their bodies ripped. "These streets demand your vigilance," says a citizen to a police inspector.
...