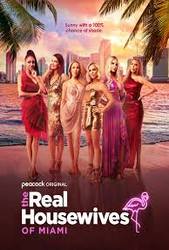 TV Info
---
Category
Reality TV
Genre
Reality
Starring :
Alexia Echevarria, Marysol Patton, Larsa Pippen, Cristy Rice, Lea Black, Adriana Sidi, Lisa Hochstein,
Joanna Krupa
, Ana Quincoces, Karent Sierra

Bravo gives viewers an escape from the grueling winter and turns up the heat with the premiere of "The Real Housewives of Miami". The newest series of the Housewives franchise adds a unique flavor as the show goes inside this cultural hot spot. "The Real Housewives of Miami" follows six of the most connected and influential women of Miami as they live their lives to the fullest in this sunny city where the party never stops.