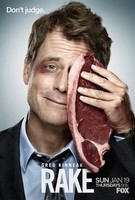 May 08, 2014 09:05:13
After ordering "
Gotham
", "
Red Band Society
" and "
Empire
"
to series
, FOX makes room for these upcoming shows by canceling the underperforming ones. Those which don't survive the chopping block are freshmen series "
Rake
", "
Surviving Jack
", "
Dads
" and "
Enlisted
".
"Rake", which marked
Greg Kinnear
's first regular TV role, had been struggling since its launch, debuting to only a 1.7 rating among adults 18-49 despite an "
American Idol
" lead-in. "Surviving Jack", led by "
Law & Order: Special Victims Unit
" alum
Christopher Meloni
, got the same chance to debut after "American Idol", but failed to attract viewers with just a 1.3 rating in the key adult demo and 5.1 million viewers.
...
March 20, 2013 03:03:44
After news broke last week that Ang Lee would direct FX's pilot "
Tyrant
", Sam Raimi is confirmed to be another high profile filmmaker that is set to make his first foray into television. Raimi has agreed to direct FOX's hour-long drama pilot "
Rake
".
Produced by Sony Pictures TV, "Rake" stars
Greg Kinnear
as Keegan Joye, a criminal defense lawyer with a lack of any filter. The pilot revolves around the chaotic and comedic life of Joyce who is also described as having a gambling habit. The pilot is based on an ongoing Australian show of the same name that stars "Moulin Rouge!" actor Richard Roxburgh.
...