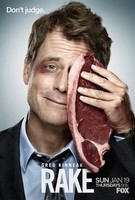 March 20, 2013 03:03:44
After news broke last week that Ang Lee would direct FX's pilot "
Tyrant
", Sam Raimi is confirmed to be another high profile filmmaker that is set to make his first foray into television. Raimi has agreed to direct FOX's hour-long drama pilot "
Rake
".
Produced by Sony Pictures TV, "Rake" stars
Greg Kinnear
as Keegan Joye, a criminal defense lawyer with a lack of any filter. The pilot revolves around the chaotic and comedic life of Joyce who is also described as having a gambling habit. The pilot is based on an ongoing Australian show of the same name that stars "Moulin Rouge!" actor Richard Roxburgh.
...