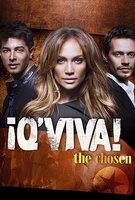 April 09, 2012 12:04:12
Marc Anthony
insisted that the bickering between him and ex-wife
Jennifer Lopez
on recently-released clip of "
Q'Viva! The Chosen
" was just a clever editing. Lopez could be heard calling him "a pig" when he called two female dancers his "babies and honeys".
The tension started when they discuss about cutting or not cutting the contestants. Lopez thought that "to cut them all is not fair" and Anthony snapped, "Jennifer, you have to listen to the points. If not, what the f*** am I doing here?" The other judge, Jamie King mediated the situation which made the former couple quiet.
...
February 17, 2012 12:02:23
Jennifer Lopez
and
Marc Anthony
's joint show has found a home. "
Q'Viva! The Chosen
", a Latin American talent show produced by the ex-spouses, will debut the English-language version on FOX on Saturday, March 3 and air two hour episodes for five weeks until the grand finale on April 7.
"I am thrilled about our new association with FOX and to have their support in introducing Q'Viva! to a global audience," Anthony said. Lopez added, "Q'Viva is a passion project on so many levels. It's really our dream to see it come together. This is about creating a live visual experience about Latin culture, rhythm and dance. I believe that people will be so enlightened, so enriched by this experience."
...