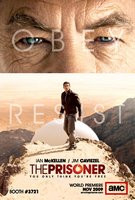 October 07, 2009 01:10:57
A shorter but new trailer of AMC's miniseries "
The Prisoner
" is being shown on the network this week. It is the compacted version of the 9 minutes trailer presented by the show's panel at the July convention of San Diego Comic Con. If the extended trailer is crowded with explanations like what "The Village" is, the new trailer is focused on the storyline starting from the arrival of Jim Caviezel's Number Six to his attempt to escape.
"The Prisoner" is based on the series of the same name airing on U.K.'s ITV in the '60s. The makers behind the AMC version said during their presentation that it is rather a reinterpretation of the classic. Screenwriter Bill Gallagher who attended the Comic Con panel explained, "This is more of a recreation than a remake. We try to keep the spirit of the original."
...