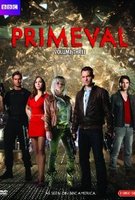 TV Info
---
Category
TV Series
Genre
Drama, Action, Adventure, Sci-Fi
Starring :
Andrew Lee Potts, Ciaran McMenamin, Ben Mansfield, Ruth Kearney, Alexander Siddig, Janice Byrne, Ruth Bradley, Ben Miller, Douglas Henshall,
Hannah Spearritt
, James Murray, Juliet Aubrey, Lucy Brown

When evolutionary zoologist Nick Cutter (Douglas Henshall) discovers prehistoric creatures alive and well in the present-day, the natural world is turned on its head, and humanity faces a threat to its very existence. Unexplained anomalies are ripping holes in the fabric of time, allowing creatures from the very earliest stages of Earth's development to roam the modern world.
Whether it's a prehistoric predator Gorgonopsid rampaging through a quiet suburban neighborhood or a swarm of super-sized spiders in the subway, Cutter and his team find themselves up against some seriously beastly opponents. These puzzling creatures all have the same simple fact in common - they don't belong here.
While Cutter and his team struggle to keep the looming disaster under wraps, Cutter also has to deal the fact that his wife, Helen, a fellow scientist who disappeared eight years ago, is not dead as he believed. In fact, she's been traveling through time. However, now she's back, and she holds the key to the riddle of the anomalies. But is it something she's willing to share? If not, what does she really want? Why did she come back?
Cutter, his research assistant Stephen Hart, zoologist Abby Maitland, and student paleontologist Connor Temple race to understand what's happening, while government bureaucrats James Lester and Claudia Brown insist they have to keep the danger secret from the public. As the past threatens to invade the present and destroy the future, Cutter's crew faces a life-and-death race against time.