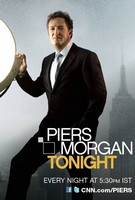 It's a big night for Piers Morgan as the former tabloid editor and America's Got Talent judge takes over the seat Larry King occupied for 25 years in his nightly interview slot on CNN.
Morgan's new interview show, Piers Morgan Tonight, begins with Oprah Winfrey as the first guest, an interviewer whose success he'd probably like to emulate.
Morgan, who is best known in the States for his role as a judge on America's Got Talent, takes over from King for the hour-long show, which will be pre-recorded in front of a studio audience.