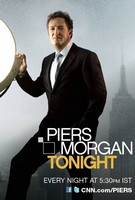 August 18, 2011 11:08:44
Piers Morgan
pissed Christine O'Donnell off during an interview with questions that she thought was out of the topic she had agreed to discuss. "You're borderline being a little bit rude," the former Tea Party-backed Senate candidate from Delaware said on "
Piers Morgan Tonight
" on Wednesday, August 17 when the British journalist asked her about abstinence and her positions on gay marriage.
Believing his questions were relevant because the issue was in her book "Trouble Maker: Let's Do What It Takes to Make America Great Again" which they were discussing, Morgan asked O'Donnell why she was being "weird" about answering questions on her own statements. "I'm not being weird. You're being a little rude," she claimed.
...
February 22, 2011 09:02:51
Larry King
recently said his replacement
Piers Morgan
is not to be blamed for the rating decline post his departure from CNN talk show "
Larry King Live
". King said Morgan is simply oversold, adding "He's good - but he's not that dangerous." The veteran host will now have to explain his statement to Morgan's face.
King has been invited as a guest on "
Piers Morgan Tonight
" on Wednesday, February 23. Morgan first tweeted in response to King's criticism towards him, writing "Got a feeling we may need to discuss Larry's claim that I'm 'oversold' and 'not dangerous' " and "May have to twang those suspenders to prove how dangerous I really am..."
...