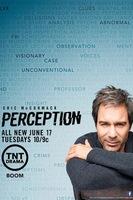 November 14, 2014 07:11:26
Eric McCormack
drama "
Perception
" is not coming back on screen for more episodes. TNT has canceled the series halfway through its third season.
In "Perception", McCormack plays Dr. Daniel Pierce, an eccentric neuroscience professor with paranoid schizophrenia who is recruited by the FBI to help solve complex cases. Pierce has an intimate knowledge of human behavior and a masterful understanding of the way the mind works.
Rachael Leigh Cook
co-stars as FBI agent Kate Moretti, Pierce's former student who asks him to consult on certain cases. Unlike her colleagues, Kate is willing to look past Daniel's peculiarities.
...