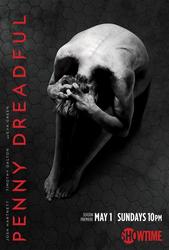 September 24, 2013 12:09:39
Showtime has unleashed the first teaser for its upcoming series "
Penny Dreadful
", offering glimpses at the show's monsters. The video doesn't give a look at the full figure of the characters as the scenes feature zoom-in shots of a fury creature and a Frankenstein monster which bears stitches on its body. Meanwhile,
Eva Green
says in a voiceover, "I believe in curses. I believe in demons. I believe in monsters. Do you?"
Dubbed a psycho-sexual horror, the new show will find characters such as Dr. Frankenstein, Dorian Gray and characters from "Dracula" in Victorian London, weaving together classic horror origin stories as the characters grapple with their monstrous alienation. Showtime president David Nevins promised, "The monsters aren't going to look like the traditional pictures in your mind you have from old movies of Dracula or Frankenstein."
...
July 31, 2013 04:07:33
Josh Hartnett
and
Eva Green
are on board Showtime's upcoming series "
Penny Dreadful
". Both actors are cast in the lead roles for the monster show, which is created by three-time Oscar nominee John Logan .
Dropping the news at the Television Critics Association summer press tour on Tuesday, July 30, Showtime president David Nevins said "Pearl Harbor" star Hartnett would play Ethan Chandler, a fake American cowboy who impresses Victorian women, but has a dark side. He isn't afraid of violence and is more complicated than he likes to admit.
...