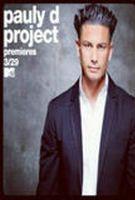 TV Info
---
Category
Reality TV
Genre
Reality
Starring :
DJ Pauly D
, Michael "Biggie" Morgan, Ryan Labbe, Gerard "Big Jerry" Gialanella, Jason "JROC" Craig

March 02, 2012 10:03:11
MTV has debuted the first look at its new reality show starring
DJ Pauly D
, "
The Pauly D Project
". In the trailer, the "
Jersey Shore
" guido describes himself as "a smalltown boy from a small state called Rhode Island."
The reality star, whose real name is Paul DelVecchio, introduces his father, as well as his entourage including Biggie, who taught him how to DJ, his bodyguard Jerry, and his wingman/BFF Ryan. He takes along the three young guys for the ride as he pursues his deejay career in Las Vegas.
...
February 09, 2012 10:02:40
MTV has set a premiere date for a "
Jersey Shore
" spin-off starring
DJ Pauly D
. Titled "
The Pauly D Project
", the new reality show will launch on Thursday, March 29 at 10:30 P.M. ET/PT, just two weeks after "Jersey Shore" wraps up its fifth season on March 15.
On the same day of "The Pauly D Project" premiere, MTV will debut the all-new "
Punk'd
" series at 10 P.M. ET/PT. The revived prank show, which will feature rotating cast of celebrity hosts namely
Justin Bieber
,
Miley Cyrus
and
Hayden Panettiere
, was previously scheduled to premiere on March 19.
...