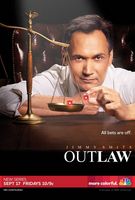 October 21, 2010 11:10:12
TV bosses behind
Jimmy Smits
' canceled drama series "
Outlaw
" are facing legal action from an attorney who alleges he pitched a similar idea to executives at the NBC network in 2007. Lawyer Larry Klayman claims to have joined forces with producer Cary Brokaw, former "L.A. Law" writer John Romano and Fox Television Studios executive Dave Madden to meet with NBC bosses to discuss the idea of a show based on a crusading attorney.
Klayman alleges "Outlaw", which starred Smits as a Supreme Court Justice starting up his own law firm, was based on his concept and insists he even suggested the same name. He is now considering taking legal action over the allegations, telling the New York Daily News, "I'm going to try to negotiate first, (but) I wouldn't be Larry Klayman if I didn't bring a lawsuit."
...
October 12, 2010 09:10:09
"
Outlaw
" is officially the first canceled show on NBC this Fall. The production had been halted last week, pending the number which October 8 episode pulled. Turns out Friday night 10/9c slot is still tough on new series for the rating was stuck on the 4.6 million average.
Eight episodes of the series have been produced and four of them have aired. The final four episodes will air on Saturdays at 8/7c beginning this week while the empty Friday night slot will be filled by a second hour of "Dateline". "
School Pride
" which led "Outlaw" remains intact on its 8/7c slot.
...