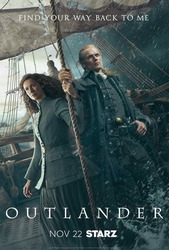 TV Info
---
Category
TV Series

Genre
Drama, History, Adventure

Starring :
Sam Heughan, Caitriona Balfe, Tobias Menzies, Graham McTavish, Gary Lewis, Duncan Lacroix


January 13, 2014 02:01:42
Starz has unveiled the first look at its new series "
Outlander
". Through a newly-released trailer, the cable channel introduces the heroine, Claire Randall (Caitriona Balfe), who thinks she experiences a strange thing as she has fallen through time.
Based on Diana Gabaldon's best-selling novel series, the fantasy drama follows Claire, a British Army nurse during the World War II who mysteriously goes back to 1743. During the magical travel, she encounters "Black Jack" Randall, a British army officer who bears striking resemblance to her husband in the 20th century, Frank Randall. She, however, is forced to marry young Scottish warrior Jamie Fraser in the 18th century.
...
June 26, 2013 09:06:51
It's official; "
Outlander
" is coming to Starz. The network has ordered 16-episode freshman season of the new drama, which is developed by "
Battlestar Galactica
" executive producer Ronald D. Moore based on Diana Gabaldon's best-selling novels.
"We are thrilled to be bringing Outlander to Starz next year," says Starz CEO Chris Albrecht. "Diana has created an incredibly compelling heroine, thrust into a very complex world, not to mention, time."
...