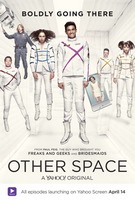 TV Info
---
Category
TV Series

Genre
Comedy

Director :
Paul Feig

Starring :
Joel Hodgson, Trace Beaulieu, Karan Soni, Eugene Cordero, Milana Vayntrub, Conor Leslie, Neil Casey, Bess Rous


April 29, 2014 11:04:46
Yahoo is adding more original series to its line-up. The company announced during the Digital Content NewFront presentation on Monday, April 28 that it had ordered two comedies, "
Other Space
" and "
Sin City Saints
".
Produced by "
Bridesmaids
" director Paul Feig, the former is described as a funny sci-fi series set in the early 22nd century. It follows a ragtag group of space explorers who find an alternate universe.
...