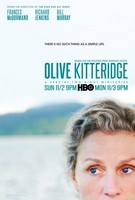 TV Info
---
Category
TV Series
Genre
Drama
Director :
Lisa Cholodenko
Starring :
Frances McDormand
,
Richard Jenkins
, Cory Michael Smith,
Jesse Plemons
, Brady Corbet,
Audrey Marie Anderson
, Patricia Kalember, Maryann Urbano, John Gallagher Jr.,
Zoe Kazan
,
Bill Murray

OLIVE KITTERIDGE tells the poignantly sweet, acerbically funny and devastatingly tragic story of a seemingly placid New England town wrought with illicit affairs, crime and tragedy, told through the lens of Olive (Frances McDormand), whose wicked wit and harsh demeanor mask a warm but troubled heart and staunch moral center. Richard Jenkins portrays Olive's husband, Henry.
The story, which spans 25 years over the four parts, focuses on Olive, a middle-school math teacher, and her relationships with Henry, the good-hearted town pharmacist, their son Christopher, who chafes at his mother's parenting style, and other denizens of their community.