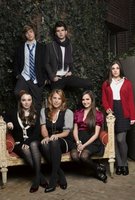 TV Info
---
Category
Reality TV
Genre
Reality
Starring :
Taylor, Sebastian, PC, Kelli, Jessica,
Camille

April 10, 2009 03:04:00
A real life "
Gossip Girl
" series is coming to the small screen. On Thursday, April 10, Bravo Media's Executive Vice President and General Manager, Frances Berwick, announced that the television network has picked up "
NYC Prep
", a documentary series which has similar prep school-set as The CW's popular TV series.
The new documentary is billed to chronicle the lives of a group of six affluent teenagers in Manhattan's social circle. "Bravo continues to intrigue audiences with real-life depictions of relatable characters who live in exclusive worlds," Berwick explained. "We'll watch as these teenagers manage the ups and downs of not only being in high school, but what comes along with growing up as part of New York's elite."
...