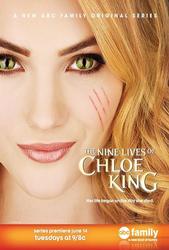 TV Info
---
Category
TV Series
Genre
Drama, Sci-Fi
Starring :
Skyler Samuels
, Amy Pietz, Grey Damon,
Grace Phipps
, Benjamin Stone, Alyssa Diaz, Lee Hong Ki

September 16, 2011 12:09:02
"
The Nine Lives of Chloe King
" will reportedly not return for a second season. Sources say ABC Family has cancelled the show, which is paired with "
Pretty Little Liars
" during the summer.
Another ABC Family freshman "
The Lying Game
", meanwhile, receives a good news. Deadline reports the drama series, which is based on another book by "Pretty Little Liars" author Sara Shepard, has been picked up for 12 additional episodes, bringing its first season order to 22. It is not clear when the second half of the first season will air.
...
June 17, 2011 11:06:08
Chloe King is seemingly enjoying the supernatural abilities that she has as a part of an ancient race. In a new clip debuted via
BuddyTV
for the second episode of "
The Nine Lives of Chloe King
", the teenage girl is seen using her claw to pick up an apple for a breakfast, but drops it before her mother can seen what she is doing.
The new show has just been premiered Tuesday, June 14 on ABC Family and did well in rating with 2.2 million viewers. Following Chloe, a girl who has the gift of nine lives and is believed to be the savior of the Mai race, the drama sci-fi series has drawn a comparison to "Buffy the Vampire Slayer".
...