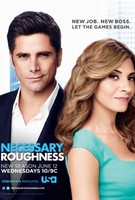 November 20, 2013 09:11:22
The game is over for "
Necessary Roughness
". USA Network has decided not to order a fourth season of the football-themed sports dramedy, which wrapped up its third and now final season in August.
"We are proud of this show and its writers, which had a unique ability to address topical subjects before they unfolded in real life on the sports pages," USA says in a statement to announce the cancellation. "We want to thank [creators] Liz Kruger and Craig Shapiro, the incredible cast led by Golden Globe nominee
Callie Thorne
and our partners at Sony Television."
...
June 01, 2012 02:06:07
A week before the return of "
Necessary Roughness
", more scoops from the upcoming season 2 have been shared by
Marc Blucas
. Among the things explained by the actor is how Dani and Matt's personal relationship will be written in the story in the next chapter.
"On the personal side, Matt's relationship with Dani starts out pretty secretive because we want to see if it goes where we want it to go before involving the kids," so the Matthew Donnally of the drama series claimed. "And then there's a lot that happens that comes with a relationship evolving."
...