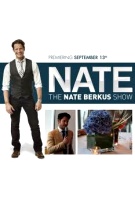 TV Info
---
Category
Talk Show

Genre
Talk-Show

Starring :
Nate Berkus


December 10, 2011 11:12:39
After his mentor
Oprah Winfrey
ended her daytime show, Nate Berkus will also pull down the curtain for the last time on his own show. Sony Pictures Television and Harpo Studios have announced that they will pull the plug on "
The Nate Berkus Show
" after it completes its second season in May 2012.
"After careful consideration, we have decided that The Nate Berkus Show will not return for a third season in the fall," Sony and Harpo said in a joint statement. "We are grateful for the hard work and heart that Nate, [executive producer] Corin Nelson and their entire team have poured into the show, and we're very proud of what they've delivered."
...
September 30, 2010 01:09:48
AceShowbiz has got an exclusive first look at the October 1 episode of "
The Nate Berkus Show
". Nate Berkus chats with "
Gossip Girl
" star
Michelle Trachtenberg
who reveals that she had an interesting encounter with
Ewan McGregor
and Nate at one green project event. Not seen in the clip is them sharing design tips.
Berkus, who has numerously done a home makeover on "
The Oprah Winfrey Show
", will also help one young college freshman prepare for dorm life with some amazing space-saving tips. Also, "how to throw the ultimate stress-free family reunion".
...