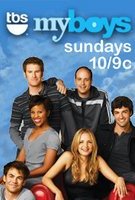 "My Boys" is a fresh, contemporary comedy set in Chicago, about friends helping friends through the dating game and life's challenges.
PJ Franklin (Jordana Spiro) is a twenty-something professional sportswriter looking for love within her world, which is dominated by her group of male friends. At first glance, she's a typical young single woman--smart, attractive, outgoing, personable. Her boys are her family, which sometimes hinders PJ's dating life, as the men she tries to date don't know how to react to her unconventional interests and the all-important men in her life.
Her tomboyish, no-nonsense approach to relationships tends to freak out potential suitors which leads her only female friend to advise her to dress and act more feminine. Being "one of the guys" can mean a lot of great things: poker games, pick-up softball games, watching sports or just hanging out at a favorite bar. But for PJ being a girl who's one of the guys can be challenging.