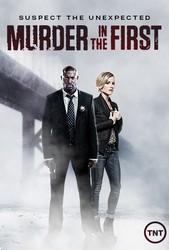 TV Info
---
Category
TV Series
Genre
Drama
Starring :
Taye Diggs
,
Kathleen Robertson
,
Tom Felton
, Raphael Sbarge, Bess Rous, Currie Graham,
Ian Anthony Dale
,
James Cromwell
,
Nicole Ari Parker
,
Steven Weber
,
Richard Schiff

TNT will once again take viewers deep inside a complex murder investigation in Murder in the First, a powerful crime drama starring Taye Diggs (Private Practice) and Kathleen Robertson (Boss) and co-created by Emmy winner Steven Bochco and Eric Lodal. This summer in the second season of Murder In The First, San Francisco homicide detectives Terry English (Diggs) and Hildy Mulligan (Robertson) will investigate a series of murders that could rip the city apart and shake the police force at its core.
Caught in the crosshairs during one of the most shocking crimes in the city's history, Mulligan, English and the men and women of 850 Bryant Street find themselves trapped in a crumbling system where the lines are blurred - between friends and enemies, loyalty and corruption, legal and illegal, good and evil - as a threat from outside is matched by a threat from within.
Joining the cast this season are A.J. Buckley (Justified), Emmanuelle Chriqui (Entourage), Laila Robins (Homeland), Mo McRae (Wild), Mateus Ward (Hostages) and John Cothran (Eastbound & Down). Returning series regulars include Raphael Sbarge (Once Upon A Time) and Lombardo Boyar (The Bernie Mac Show) as Homicide Inspectors David Molk and Edgar Navarro, Ian Anthony Dale (Hawaii Five-0) as Lt. Jim Koto, Currie Graham (Raising the Bar) as Chief Prosecutor Mario Siletti and Mimi Kirkland (Safe Haven) as Hildy's daughter, Louise.