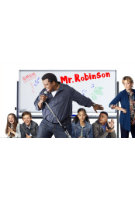 January 07, 2014 02:01:45
Craig Robinson
is returning to NBC after "
The Office
" wrapped up last summer. The network has given a six-episode series order to "
Mr. Robinson
", which will be headlined by the Darryl Philbin of the canceled mockumentary.
The revamped single-camera comedy, which has been in development at the Peacock for more than a year, follows a musician who gets a job as a music teacher at a middle school. "While teaching the kids everything from rock to the blues, he simultaneously learns how to put the school's rules to the test," so NBC describes the character.
...