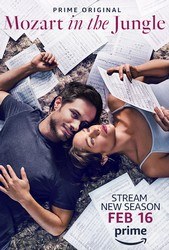 February 19, 2015 09:02:21
Amazon is renewing "
Mozart in the Jungle
" for a second season and greenlighting five new original series. On Wednesday, February 18, the company announced the news, saying that the second season of the classical music-themed series starring
Gael Garcia Bernal
, which debuted in December, would premiere in early 2016 exclusively on Prime Instant Video. Roman Coppola, Jason Schwartzman and Paul Weitz serve as executive producers.
"The first season of 'Mozart in the Jungle' was a big hit with our customers and I'm thrilled that we're able to produce a second season," Roy Price, Vice President of Amazon Studios, said in a statement. "Roman, Jason, and Paul brought viewers into this rarely-seen world of the symphony. I know fans of the series will be in for treat when the second season premieres early next year."
...