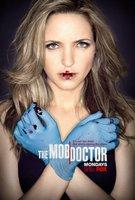 November 29, 2012 08:11:18
FOX will burn off the final episodes of "
The Mob Doctor
, which gets 13-episode order in its inaugural season. The last four outings of the rookie show starring
Jordana Spiro
will air December 29, December 31, January 5 and January 7.
The crime drama will air its ninth episode as scheduled on December 3, before going on a hiatus. The following Mondays will be filled with special and holiday programmings as well as "
Raising Hope
" repeats.
...
July 20, 2012 03:07:38
FOX is going full throttle in promoting its new series "
The Mob Doctor
" by putting a trailer for the show in front of "
The Dark Knight Rises
" screenings. The preview has now made its way out online, showing Grace Devlin, a top resident at Chicago's Roosevelt Medical Center, who is torn between being loyal to the physician's oath and obeying the orders of a mob whom she owes her debt to.
Grace is hailed one of the country's most promising young surgeons. To pay off her brother's life-threatening gambling debt, she agrees to work "off book" for the mafia men she once despised. During the day, she must deal with the emotionally compelling cases at Roosevelt Medical, but in her other vastly different world, she must juggle an onslaught of mob-related demands, including operating in mob-sanctioned locations, removing bullets from dead bodies.
...