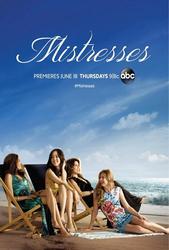 Based on the hit UK television series of the same name, "Mistresses" returns for a third season with a special two-hour premiere on Thursday, June 18 (9:00-11:00 p.m., ET) on the ABC Television Network. The provocative and thrilling drama continues to focus on the scandalous lives of a sexy and sassy group of girlfriends, each on their own path to self-discovery.
Picking up where last season's cliffhanger left off, "Gone Girl" begins with the bride-to-be in the arms of another man. Having confessed their true feelings, Joss and Harry are making out on the beach when Karen calls with bad news and Joss races to be with Scott. Meanwhile, April invites her half-brother Scotty and his mother to town and they arrive with Uncle Marc in tow. Karen makes a return visit to her doctor, Alec and the results of her blood test are about to change her life in a very dramatic way. Fashion designer Calista Raines arrives on the scene determined to get what she wants.
The drama and intrigue continues with "I'll Be Watching You" as new friendships are forged, relationships are set on a complicated course and mysterious plans are set in motion.