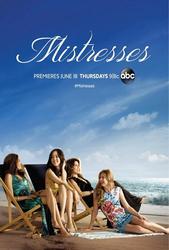 TV Info
---
Category
TV Series
Genre
Drama, Thriller
Starring :
Alyssa Milano
, Kim Yunjin, Jes Macallan, Rochelle Aytes,
Jason George
, Brett Tucker, Erik Stocklin

October 02, 2014 04:10:39
Alyssa Milano
is leaving "
Mistresses
" after two seasons. The mother of two announces on her website her departure from the ABC show which has just been renewed for the third season, saying that she wants to focus on motherhood.
"After two wonderful seasons in Los Angeles, the studio has decided to shoot season three of Mistresses in Vancouver, Canada for financial reasons," the 41-year-old star explains. "It's with a heavy heart that I have decided that I can't relocate."
...
October 01, 2014 11:10:33
"
Mistresses
" gets a third season. ABC has ordered another season of the primetime soap, which is based on the 2008-2010 U.K. series of the same title. The 13-episode season 3 is expected to air next summer.
The drama stars
Alyssa Milano
, Yunjin Kim, Rochelle Aytes and Jes Macallan as four sexy and sassy girlfriends who find support and guidance with each other as they brave their turbulent journeys and life's storms of excitement, secrecy and betrayal, all the while bound by the complex relationships they've created.
...