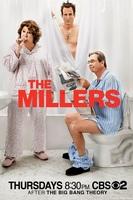 July 09, 2014 09:07:00
Sean Hayes
is the new face and conflict on "
The Millers
". Following the cancellation of his NBC comedy "
Sean Saves the World
", the Emmy-winning actor joins the CBS comedy as a series regular.
Playing Kip Withers, Hayes will begin his stint in the Greg Garcia show's second season. Withers is Carol Miller's (Margo Martindale) new best friend and a source of friction for her son Nathan (
Will Arnett
).
...
July 01, 2013 09:07:17
Jayma Mays
will be one of "
The Millers
" on the CBS new sitcom. The "
Glee
" actress is tapped to portray
Will Arnett
's on-screen sister, Debbie, who was initially set to be played by Mary Elizabeth Ellis.
On heels of the change on the casting department, TVLine reports that producers are also looking for a new actor to play Deb's husband. "
Prison Break
" actor Michael Rapaport was originally recruited to star opposite Ellis.
...