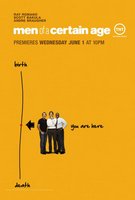 July 16, 2011 10:07:42
Appearing among 2011 Emmy nominees cannot help "
Men of a Certain Age
" survive a cancellation. Just a day after it was announced that
Andre Braugher
gets a supporting drama actor nod at the upcoming prize-giving event, TNT has made "an extremely difficult decision" to axe the slow-paced male dramedy as it kept struggling in ratings.
"While the show has featured great storytelling and impeccable performances, the audience simply hasn't built to the point where we can continue the series," a spokesperson for TNT stated on Friday, July 15. The show only averaged a 0.4 rating in 18-49 demographic for its latter half of second season.
...
December 26, 2009 11:12:05
Three clips from the upcoming episode of "
Men of a Certain Age
" are released. Joe, Terry and Owen are having lunch together to talk about a school charity and Owen revealed that Joe's ex-wife is bringing a guy to the event.
Owen and Melissa join Joe's ex-wife, Sonia, and her new boyfriend, Harold, for a charity function at their children's school. Terry does his annual duty as auctioneer for the event and meets an old flame, while Joe winds up hanging out with his bookie, Manfro.
...