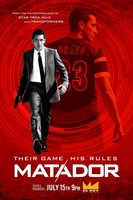 TV Info
---
Category
TV Series
Genre
Action, Drama
Starring :
Gabriel Luna,
Alfred Molina
,
Nicky Whelan
, Neil Hopkins, Tanc Sade, Yvette Monreal, Elizabeth Pena, Julio Oscar Mechoso, Isabella Gomez

December 01, 2014 05:12:24
El Rey Network has canceled Gabriel Luna's drama series "
Matador
" despite previously renewing it for a second season. The Robert Rodriguez-owned network decided not to move forward beyond the 13-episode season 1 reportedly because of soft sales in international market.
"Matador" follows a DEA agent who goes undercover for CIA as a professional soccer player. Luna starred alongside
Alfred Molina
,
Nicky Whelan
, and Neil Hopkins. Created by Bob Orci and Alex Kurtzman, the series was hailed as a Latino take on James Bond. Rodriguez directed the pilot, which aired in July.
...