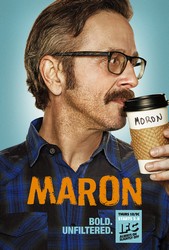 TV Info
---
Category
TV Series
Genre
Comedy
Starring :
Marc Maron, Josh Brener,
Judd Hirsch
, Sally Kellerman, Dave Anthony, Andy Kindler

Marc Maron is fighting new issues this season, but will he be able to get out of his own head and evolve out of "adultescence"? Watch as he tries to work it out in season three of IFC's wry comedy series, Maron. Back with 13 new half-hour episodes, the series stars comedian, writer and host of the popular WTF podcast (www.wtfpod.com), Marc Maron.
This season, the stakes have never been higher for Marc as he attempts to keep it together while trying to launch a new talk show, help a friend father a child (while avoiding his own dad) and salvage the relationships he actually has left. Marc's future is uncertain as he tries to take his life to the next level while facing down old demons.