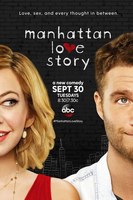 Have you ever wondered what your date was really thinking?
This romantic comedy explores the differences between men and women by highlighting the disparities between what they say and what they really think throughout the course of a relationship, by exposing their unfiltered thoughts.
Southern girl, Dana (Analeigh Tipton), is new to the city and ready to make it big in the New York publishing world. On the outside, she is full of ambition, passion, and confidence. Inside her head, she doubts her outfit, hates her ankles, and is sure she's said and done exactly the wrong thing in every situation.
In contrast to Dana's unsettled life, she is temporarily staying with her college friend Amy (Jade Catta-Preta) and her husband David (Nicolas Wright), a seemingly perfect couple who set Dana up on a date with David's brother, Peter (Jake McDorman).
Like with Dana, we are privy to all of Peter's inner thoughts. We know how charming and suave he thinks he is on his first date with Dana...and how he is sure it is not his fault when she runs out of the restaurant crying after five minutes.