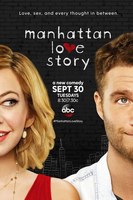 October 25, 2014 11:10:48
And so the evaluation begins. ABC's "
Manhattan Love Story
" has become the first new series of the fall to be canceled. The network made the decision on Friday, October 24 after airing only four episodes of the new comedy.
To fill the 8:30 P.M. slot on the Tuesday line-up, ABC will now air two original episodes of another new comedy, "
Selfie
", back-to-back starting November 4. The romantic sitcom starring
Karen Gillan
and
John Cho
has been airing Tuesdays at 8 P.M. since its September 30 debut and has been a better performer than "Manhattan Love Story".
...