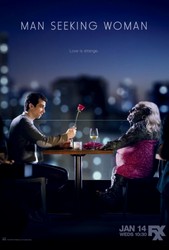 TV Info
---
Category
TV Series
Genre
Comedy
Starring :
Jay Baruchel
, Eric Andre, Britt Lower, Maya Erskine, Miles Fisher

July 03, 2014 12:07:02
FXX has ordered 10 episodes of
Jay Baruchel
starrer comedy series "
Man Seeking Woman
". In a statement released on Wednesday, July 2, the network explains that Baruchel will play a naive romantic man named Josh Greenberg who is "on a desperate quest for love."
The new series is based on Simon Rich's book of short stories "The Last Girlfriend on Earth". Rich wrote the pilot with Jonathan Krisel directing. Also starring Eric Andre, Britt Lower and Maya Erskine, it is scheduled to premiere in 2015.
...