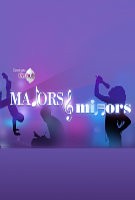 TV Info
---
Category
Reality TV

Genre
Reality, Music

Starring :
Ashley Nicole Greene, Austin Crute, Brandon Michael, Cameron DeFaria, Emily Kocontes, Grace Jeanette, Hailey Dibiasi, Josh Metzler, Kennedy Noel, Michael Woodward, Nia Holloway, Sabrina Lentini


November 06, 2011 12:11:37
Adam Lambert
was a surprise guest on new Hub TV talent show "
Majors & Minors
". A sneak peek of him on the Sunday, November 13 broadcast has been shared, showing the "
American Idol
" alum making some young kids happy.
The kids ages 8 to 16 were tasked to cover Lambert's hit single "Whataya Want From Me" and their wishes to perform the song before the artist was made true. Lambert was also there to give each of the kids advice and tips on the cover of his song. The episode which also features guest mentor,
Brandy
, will air on November 13.
...
July 30, 2011 01:07:03
A new reality show premiering on Friday, September 23 on kids network The Hub is boasting the appearances of major musicians like
Avril Lavigne
,
Adam Lambert
and many more. "Majors & Minors" is a show about experienced people mentoring young talents in music.
Lavigne, Lambert, Colbie Caillat and Claude Kelly join the previously announced "majors" such as
Brandy
,
Leona Lewis
,
Jordin Sparks
,
Sean Kingston
,
Mike Posner
and Ryan Tedder. There will be 12 cast members or, so called "minors", aged between 10 to 16, who "will have the unique opportunity of being guided and groomed in a completely supportive and collaborative environment".
...