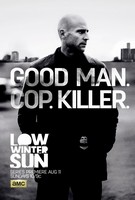 TV Info
---
Category
TV Series
Genre
Drama
Starring :
Mark Strong
, Lennie James, James Ransone,
Ruben Santiago-Hudson
, Sprague Grayden, Athena Karkanis, Billy Lush, David Costabile

December 07, 2013 07:12:28
"
Low Winter Sun
" has been canceled and it came rather inevitable. AMC decided to cut off the freshman after a streak of low rated episodes. Even the lead-in from finale episodes of hit TV series "
Breaking Bad
" did not help.
Based on a British miniseries, "Low Winter Sun" stars
Mark Strong
as a homicide detective in Detroit. It premiered in August to a relatively modest 2.5 million viewers and declined in rating over time, going as low as 0.63 million in October.
...
March 22, 2013 04:03:44
AMC has shared footage of its new series "
Low Winter Sun
" by debuting the first trailer. It shows Lennie James' Joe giving
Mark Strong
's Frank Agnew a pep talk about 'black and white' before they choke another man to death and make it as if it was an accident.
Having dealt with a crime that makes him further doubt his morality, Frank faces a new problem when internal affairs begin an investigation in his division. This causes a friction between him and his partner-in-crime Joe.
...