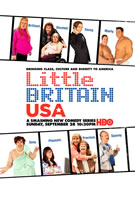 TV Info
---
Category
TV Series
Genre
Comedy
Starring :
Matt Lucas
, David Walliams, Brett Gentile, Brad Grunberg, Peggy Miley

September 20, 2008 01:09:19
Weighing on the success of "Little Britain" in U.K., comedians
Matt Lucas
and David Walliams develop the sketch comedy for its US version and name it "
Little Britain USA
". The first season will kick off Sunday, September 28 on HBO at 10:30 P.M. and seven clips have been released to give introduction to the characters.
With the tag "Bringing Class, Culture and Dignity to USA", the States version will also see Lucas and Walliams portraying various different characters in new sketches along with new characters. American celebrities slated to make guest appearances are
Vivica A. Fox
,
Paul Rudd
,
Sting
,
Rosie O'Donnell
, and
Sarah Chalke
among others.
...