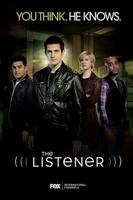 TV Info
---
Category
TV Series
Genre
Drama
Starring :
Craig Olejnik
,
Ennis Esmer
, Lauren Lee Smith, Mylene Robic, Arnold Pinnock, Peter Stebbings,
Colm Feore
,
Lisa Marcos
, Anthony Lemke, Paulino Nunes, Rainbow Sun Francks, Tara Spencer-Nairn

Toby Logan is a 24-year-old paramedic living with a secret: he can read people's minds. This telepathic procedural takes viewers into the heart of a tortured hero who struggles to solve crimes with his unique gift. Week-to-week, The Listener balances high-stakes drama with irreverent humor and sends Toby on an intellectual and emotional adventure.