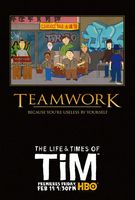 TV Info
---
Category
TV Series

Genre
Animation, comedy

Starring :
Bob Morrow, Matt Johnson, MJ Otto, Nick Kroll, Peter Giles, Steve Dildarian


Some captains of business follow their instincts to greatness. But in the beige corporate morass of mid-level Manhattan, a self-conscious guy named Tim is following his gut all the way to sensitivity training in HR. No matter the situation, life's little challenges always manage to demand the most offensive solutions, which wouldn't be such a problem if he weren't continually caught red-handed.
From the mind of Steve Dildarian - the Clio-winning ad man behind Budweiser's famous Lizards' campaign - an all-new season of The Life and Times of Tim follows this everyday working guy from one scandalous crisis to the next, introducing his cadre of outrageous friends along the way.