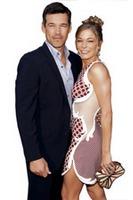 June 11, 2014 01:06:08
VH1 has released the first official trailer for its new unscripted series starring
LeAnn Rimes
and
Eddie Cibrian
. In the promo for "
LeAnn & Eddie
", the couple sits together to talk about their marriage.
Admitting that their relationship "didn't quite start off like we had planned," the actor explains, "We were both married to other people...now who we really are is a couple and in love." Rimes chimes in that they're just "trying to figure out how to navigate this family ... that's highly publicized." Cibrian adds, "Everyone thinks they know how it is with us," but "there's two sides to every story."
...
August 09, 2013 09:08:59
LeAnn Rimes
and
Eddie Cibrian
's TV show which they first revealed in May has found a home. VH1 has ordered "
LeAnn & Eddie
" (working title), a six-episode half-hour series, for a fall 2013/winter 2014 premiere.
"We are really excited to be working together on a unique show that will give you a glimpse into who we really are or better yet who we're really not," the couple, who starred together in Lifetime's movie "
Northern Lights
", says. "We're thrilled to partner with VH1 and The Gurneys to put our spin on a project full of love, humor and music."
...