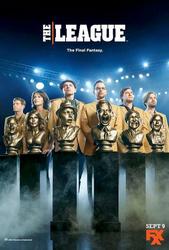 August 16, 2015 11:08:58
FXX's "
The League
" is looking forward to ending with a high note, thanks to
Seth Rogen
and Jason Mantzoukas. The funny duo will re-appear in an episode of the ensemble comedy's last season.
Rogen and Mantzoukas have been recurring on the show since 2011, playing Dirty Randy and Rafi respectively. Rafi is the brother-in-law of series regular Nick Kroll's Ruxin while Randy is a librarian who lives up to his name. Rogen and Mantzoukas have also written several episodes including last year's "When Rafi Met Randy".
...
June 16, 2011 03:06:15
"
The League
" will not come back until this fall, but FX has already teased the upcoming third season in a PSA-like promo. It features main actors like Katie Aselton,
Mark Duplass
,
Stephen Rannazzisi
and Paul Scheer talking to camera about how they "imagine" things in their head.
In a separate scene, each of them said, "Imagine the world without hope, imagine lifestyle without freedom, imagine this season without football, imagine Sunday spend just with family, Imagine having to talk to your friends about their lives." It gets more ridiculous when Jason Mantzoukas revealed his own wild imagination, "Imagine me and thong."
...