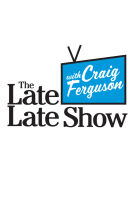 An American late-night talk show hosted by Craig Ferguson.
The show starts with a cold open introduction, followed by a commercial break, then the opening credits. Craig almost always begins the show by saying "Welcome to Los Angeles, California. Welcome to The Late Late Show. I'm your host, TV's Craig Ferguson".
Craig's monologue is told in an informal, largely-improvised fashion and often spills over into his first segment following a commercial break. Ferguson reads and responds to viewer e-mail almost every night. Other segments include loosely-scripted comedy sketches which feature Ferguson in costume or performing in collaboration with any of a number of semi-regular guests including performers such as Dave Foley, Betty White, Tim Gunn, Jeffrey Tambor, Daniel McVicar, and Tim Meadows.
Occasionally a guest will participate in a sketch, such as Ewan McGregor. Most shows include celebrity interviews and sometimes a musical guest and or stand-up comedy act. Musical performances are often taped before the rest of a show.