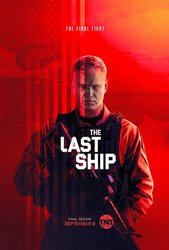 TV Info
---
Category
TV Series
Genre
Action, Drama
Starring :
Eric Dane
,
Rhona Mitra
,
Adam Baldwin
, Charles Parnell, Christina Elmore, Sam Spruell, Travis Van Winkle, Mark Moses,
Tania Raymonde
, Brian F. O'Byrne, Nick Court

TNT's epic drama The Last Ship - basic cable's #1 new series of 2014 - is preparing to set sail again this summer in its quest to save humanity after a devastating pandemic. Eric Dane (Grey's Anatomy), Rhona Mitra (Strike Back) and Adam Baldwin (Firefly, Chuck) star in the high-impact series, which is produced by Platinum Dunes, with its partners - blockbuster filmmaker Michael Bay, Brad Fuller and Andrew Form - serving as executive producers. Co-creators and showrunners Hank Steinberg (creator of Without a Trace, The Nine) and Steven Kane (The Closer) are also executive producers, along with Jack Bender (Lost).
Based on William Brinkley's popular novel, The Last Ship chronicles a global catastrophe that nearly decimates the world's population. Because of its positioning, the Navy destroyer U.S.S. Nathan James avoided falling victim to the devastating tragedy. But now the crew and its captain must confront the reality of their new existence in a world where they may be among the few remaining survivors.
As the second season opens, Captain Chandler (Dane), XO Slattery (Baldwin) and the rest of the crew are working to disseminate the cure that paleomicrobiologist Dr. Rachel Scott (Mitra) developed at the end of season one.