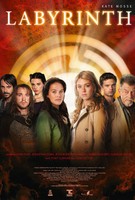 TV Info
---
Category
TV Series
Genre
Adventure, drama, history
Director :
Christopher Smith
Starring :
John Hurt
,
Tom Felton
,
Sebastian Stan
,
Jessica Brown Findlay
, Vanessa Kirby, Katie McGrath, John Lynch, Bernhard Schir, Danny Keogh, Janet Suzman, Emun Elliott, Claudia Gerini, Tony Curran, Lena Doerrie

September 04, 2012 12:09:06
Kate Mosse's worldwide bestseller "
Labyrinth
" is adapted into a miniseries of the same title by writer Adrian Hodges and it has been previewed in a trailer. The story begins as modern-day archeologist Alice Tanner (Vanessa Kirby) finds skeletal remains and a labyrinth-engraved ring in a cave.
She then sees events from 13th century Carcassonne, during which 17-year-old Alais Pelletier (
Jessica Brown Findlay
) is given a task to protect three hidden books - The Book of Words, The Book of Potions and The Book of Numbers. Together, these tomes hold the secret of the true Grail, which dates back to the Ancient Egyptian era many years before Christ.
...