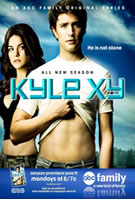 January 03, 2009 10:01:12
The third season of "
Kyle XY
" has been given a preview through a newly-outed clip where Kyle is searching for Amanda but got captured. The teen sci-fi series will be screened on ABC Family starting January 12 with 10 episodes in the pipeline.
In the first episode of the season, Kyle, who has been restrained and weakened, awakens inside a Latnok building. Despite his predicament, Kyle must escape and rescue Amanda - who is being held in the same building.
...