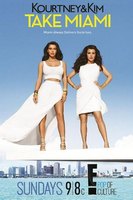 December 25, 2012 01:12:59
E! has unleashed a new promo for "
Kourtney and Kim Take Miami
", hinting that the girls are gettng through a strained situation in their relationship. In one scene,
Kim Kardashian
complains about how things have become since her sister
Kourtney Kardashian
has her second baby, and the older Kardashian girl later curses her younger sister out.
More dramas are going to be seen on the reality series as the sneak peek also features a man getting slapped, someone throwing a plate into pieces and Kourtney not happy with their Dash store in Miami. Kim's kitten, which recently died, will be featured on the show as well.
...
September 18, 2012 01:09:44
Kourtney Kardashian
and
Kim Kardashian
are going to heat things up on "
Kourtney and Kim Take Miami
", so it's claimed in a new promo for the show. The video sees the sister duo showing off their curves in bikinis, while their argument about their DASH boutique is heard in the backsound.
The "
Keeping Up With the Kardashians
" spin-off began the production on Monday, September 17. Kim had already been in the city over the weekend as she tweeted on Sunday, "Dash Miami today was crazy! Such cute stuff! Did a little shopping & re-merchandised the store!"
...